Hildegard of Bingen and the Greening Power of God: A Pilgrimage in Germany
Date: September 9, 2018- September 18, 2018
Location: Germany
Description
Fire of the Holy Spirit,
life of the life of every creature,
holy are you in giving life to forms.
Rivers spring forth from the waters
earth wears her green vigor.
–Hildegard of Bingen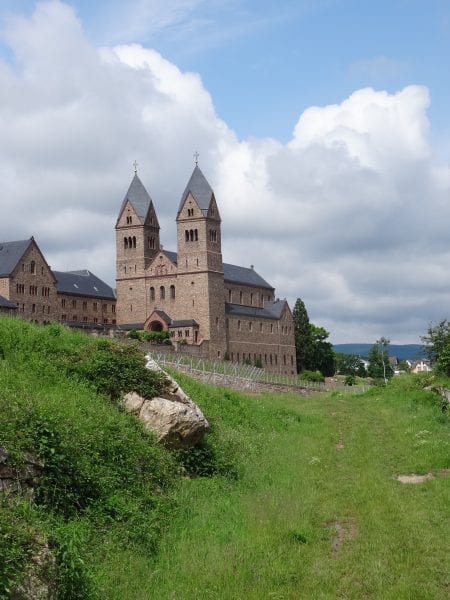 What is Included
9 nights lodging in the Hildegard Forum Hotel with breakfast daily
7 lunches and 6 dinners
Private van transport on our four outings to Hildegard sites
Ritual, teaching, and guidance from Betsey Beckman and Christine Valters Paintner
Retreat days with creative exploration and integration each morning and time for quiet exploration in the afternoons
A fabulous and intimate community of monks and pilgrims
Access to the Hildegard of Bingen online self-study retreat as a part of your preparation
A list of recommended reading
Join a community of pilgrims in Germany as we experience the landscapes and rhythms that nourished Hildegard of Bingen, mystic, composer, artist, poet, healer, preacher, ecological visionary, and spiritual director.  Let Hildegard become a soul guide as you immerse yourself in viriditas, the greening power of God, and embrace the legacy of her creative outpourings as gifts for our time.
Through presentations, contemplative practices in sacred spaces, community, and creative forms (including movement, music, writing, and visual art) Christine and Betsey will guide you in exploring how the paths of the monk and artist, which Hildegard so firmly embraced, can become doorways to our own soul's deepening and the greening power of the Divine Presence in our lives.
For additional details, prices and to register CLICK HERE